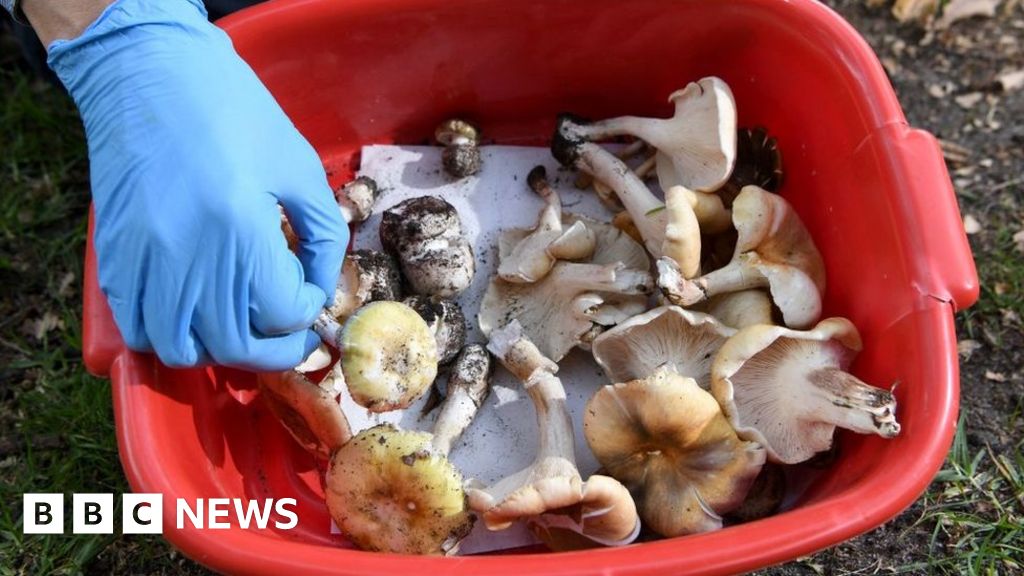 www.bbc.com
Mushroom poisoning deaths: Family lunch mystery grips Australia
Said to have been poisoned by wild mushrooms, three in a tight-knit town are dead, with another critical.
Curious
Two Saturdays ago, five people sat down for a family meal in a tiny Australian town.
Within a week, three would be dead, a fourth fighting for life, and the fifth under investigation for potentially poisoning her guests with wild mushrooms.
But the 48-year-old woman who cooked the lunch says she has no idea what happened, and that she loved her family and wouldn't hurt them.
The peculiar case has captured national attention, puzzled police, and left a tight-knit community reeling.
'Nefarious' or 'accidental'?
The unusual tale began when Gail and Don Patterson stopped for lunch with their grandchildren at their daughter-in-law Erin Patterson's home in Leongatha - a two-hour drive southeast of Melbourne.
With them were the Wilkinsons - Heather, Gail's sister, and her husband Ian.
All four were much loved members of the nearby town of Korumburra, where Ian was the local Baptist church pastor.
But it was no ordinary lunch. Hours after the meal, all four guests took themselves to the local hospital with what they first believed was severe gastro.
It quickly became clear it was something far worse, and they were transferred to a hospital in Melbourne to receive the best medical care the state had to offer.
Despite that, Heather, 66, and Gail, 70, died on Friday, and Don, 70, on Saturday. Ian, 68, remains in a critical condition in hospital, awaiting a liver transplant.
Police say they believe the four ate death cap mushrooms - which are highly lethal if ingested.
But oddly, Erin and her two children are just fine.
Police say both kids - who have since been taken into state care as a "precaution"- ate a different meal.
But beyond that, little is clear.
Investigators say they are unsure if Erin ate the same food as her guests, or even if the mushrooms were in the dish that she served.
They also pointed out that she was separated from her husband - who is the Patterson's son - but described it as an "amicable" split.
"Nefarious activity" has not yet been ruled out though.
"At this point in time, the deaths are unexplained," the homicide squad's Dean Thomas told reporters on Monday.
"It could be very innocent, but we just don't know."
Ms Patterson says she "can't fathom what has happened".
Crying as she spoke to reporters outside of her home, she declined to answer questions about what meals were served to which guests or where the mushrooms had come from.
But she did profess her innocence.
"I didn't do anything; I loved them."
Community shaken
As news of the incident spread through the local area, so did horror.
"No one would ever expect that to happen here," the regional mayor Nathan Hersey told the BBC.
"Who in their right mind would expect that they would lose... people who contribute and give so much... in such a way?
"People are grieving and extremely sad."
In a statement, the victims' families paid tribute to them as "pillars of faith" within the community.
"Their love, steadfast faith, and selfless service have left an indelible mark on our families, the Korumburra Baptist Church, the local community, and indeed, people around the globe," the statement published in the South Gippsland Sentinel Times said.
But also distraught, is Erin.
"Gail was the mum I didn't have… my own children have lost their grandmother," she said.
"They were some of the best people I've ever known... I'm devastated they are gone."
It isn't the first time the state of Victoria has been rocked by mushroom poisonings, and as foraging expands in popularity, death caps are increasingly mistaken for edible fungus.
They're found in cool, humid climates all over the world, and look far more innocent than a lot of other deadly varieties. Responsible for 90% of lethal mushroom poisoning globally, a piece the size of a coin is enough to kill an adult if eaten.
In 2020 a spate of poisonings in Victoria put eight people in hospital, one of whom died.
Authorities have again urged people not to eat wild mushrooms they have foraged.
"If you haven't purchased them from a supermarket, perhaps stay clear of them," Mr Thomas said.