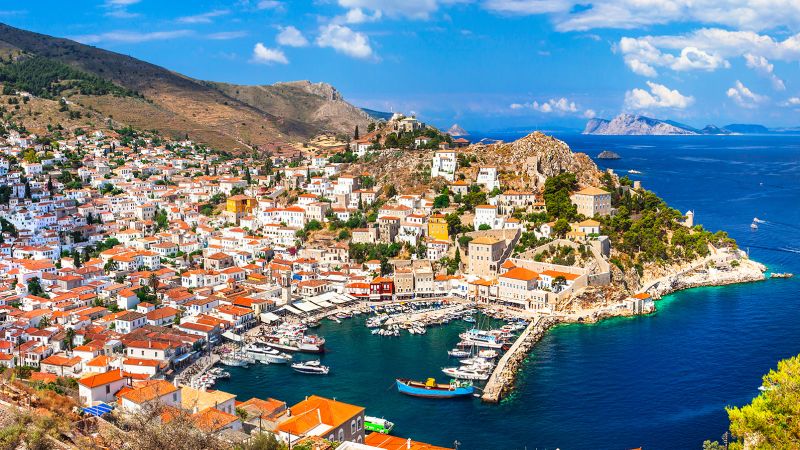 www.cnn.com
Hydra: The Greek island of calm where cars are banned and time stands still | CNN
Cars are banned on the Aegean island of Hyrda, adding to a laid-back vibe that once attracted Sophia Loren and Leonard Cohen and continues to pull in creatives today.
Travel
CNN
—
Hydra is at first glance no different from its neighbors. Like other islands in the Aegean Sea, it has white-washed streets, fragrant jasmine-filled air and breathtaking vistas of the shimmering blue waters around it.
What sets Hydra apart is its favored mode of transportation. Locals have resisted the clamor of honking horns, instead embracing the rhythmic sound of horse hooves.
Here, cars are not just absent; they're intentionally kept away. A ban on motorized vehicles (except fire and refuse trucks and ambulances) is enshrined in local legislation.
The Greek island's population of about 2,500 locals get around using mules, donkeys and small horses.
Stepping off the ferry and onto Hydra Port, the heart of the island, visitors are met by small horses gracefully weaving their way through the cobblestone streets and giving them a taste of the island's unhurried pace.
As you wander through Hydra's quaint pathways, it's common to witness locals going about their daily business, accompanied by their four-legged companions.
From Kaminia, a tranquil village on the southern coastline adorned with traditional stone houses, to Mandraki on the island's western shores, renowned for its pristine waters and laid-back aura, the island is intertwined with their presence.
"Hydra is an island that really takes you back in time," says Harriet Jarman, owner of horse trekking company, Harriet's Hydra Horses.
"All the transportation on this island is done by horses or mules. Because there are no cars, everyone's lives are a little bit calmer."
No cars? No problem
Jarman's connection with Hydra began 24 years ago when her mother brought her to the island on vacation, leading to a life-changing decision to make Hydra their permanent home.
It was a decade later, during Greece's economic crisis, when Jarman faced pressure to sell her cherished horse, Chloe.
Determined to keep her beloved companion, she decided to establish her horse trekking business, a venture that not only supported Chloe but also allowed her to share her love for the island's landscapes.
"I got fed up with everyone telling me to sell her (Chloe) because it's expensive to keep a horse," she recalls. "I thought, okay, I'm going to show people the reasons why I want to stay on the island myself."
The company now has a team of 12 horses, with guided tours across the island's trails led by experienced equestrians.
These journeys take in Hydra's many quaint monasteries and picturesque beaches. Riders can even take a refreshing swim alongside the horses.
The decision to embrace traditional horse-drawn transportation, known as "cáiques," pays homage to the island's rich heritage and commitment to sustainable living.
During the 18th and 19th centuries, Hydra flourished as a bustling maritime hub. But as the 20th century arrived, bringing motorized transport to the rest of Greece, the island's narrow and steep streets, coupled with rocky terrain, made cars impractical to get around in.
And so residents clung to equine transportation, which could traverse the rugged landscape more efficiently.
Read here:
https://www.cnn.com/travel/greece-hydra-island-of-calm/index.html