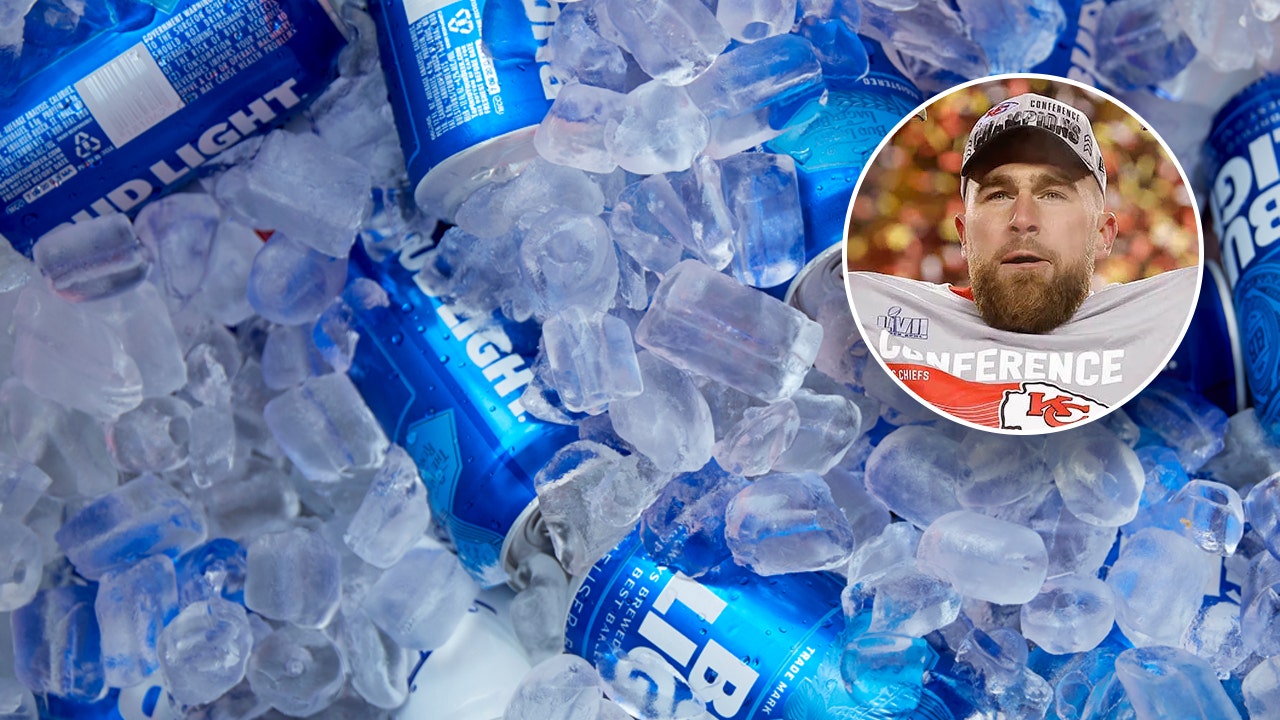 www.foxnews.com
Bud Light hit over 'desperate' ad with NFL star Travis Kelce: 'Going for the death blow'
Bud Light's latest ad featuring Kansas City Chiefs star Travis Kelce was branded by consumers as just the latest "desperate" attempt to claw back consumer support.
Business
Bud Light sales continue to plummet and the brand's latest ad featuring Kansas City Chiefs star Travis Kelce has been branded just another "desperate" attempt to claw back support.
Bud Light parent company Anheuser-Busch has released commercials in recent months to appeal to its lost consumer base, and the 15-second commercial featuring Kelce and other men grunting as they crack open Bud Light cans seemed like the latest effort.
Transgender activist and influencer Dylan Mulvaney was announced as a Bud Light spokesperson to promote the March Madness basketball tournament in April, which has prompted a months-long boycott of the brand.
The trans activist showed off cans of Bud Light sent by Anheuser-Busch that featured Mulvaney's face, celebrating a milestone in her viral "365 Days of Girlhood" series where the influencer detailed her daily experiences in her first year identifying as a transgender woman on TikTok.
An interview with Bud Light's marketing VP Alissa Heinerscheid also surfaced, where she criticized the brand's consumers as "fratty" with "out of touch humor."
"We had this hangover, I mean Bud Light had been kind of a brand of fratty, kind of out of touch humor, and it was really important that we had another approach," she said of her marketing strategy.
The ad titled, "Backyard Grunts with Travis Kelce," appears to be aimed at Bud Light's alienated male drinkers but most of the video's comments lambasted the brand for the latest attempt to save face.
"Man Bud Light is going for the death blow at this point," one commenter wrote. "This is what they think of their client base, stupid grunting cavemen."
"Hey look! 'Fratty' and 'out of touch' is back in style at Bud Light," another wrote.
"I don't understand how this appeals to Bud Light's target market, transgender youth," a third comment said.
Just weeks after news of the partnership with Mulvaney broke, Anheuser Busch attempted an about-face, issuing a pro-America Budweiser advertisement that featured the brand's famous Clydesdale horses walking through the American heartland, including New York City and Washington, D.C., as well as small-town America and rural farmland.
"This is a 'we're sorry' ad," Video producer Damon Imani wrote at the time. "Notice the American flag, working class, farmers, freedom, power. All American values. High budget production compared to the selfie camera recorded video by Dylan Mulvaney. They know they f'd up.""
"Budlight is done for life no matter who or how many Clydesdales they bring in," one user commented on the latest ad featuring Kelce, in reference to the earlier attempt to quell backlash.
Once the most popular beer in the U.S., recent Nielsen data shows Bud Light volumes were down 31% for the week going into Father's Day weekend.
A global bottling company who contracts with Anheuser-Busch, the Ardagh Group, has been severely impacted by Bud Light's fall from grace and announced it would be closing its plants in North Carolina and Louisiana this month, WRAL reported. The investigation found that the closure of the plants will leave nearly 650 employees without a job.
"Bud light is getting desperate after having 2 bottling plants close because of lack of demand for the beer," one user commented.