This post may refer to COVID-19
To access official information about the coronavirus, access CDC - Centers for Disease Control and Prevention.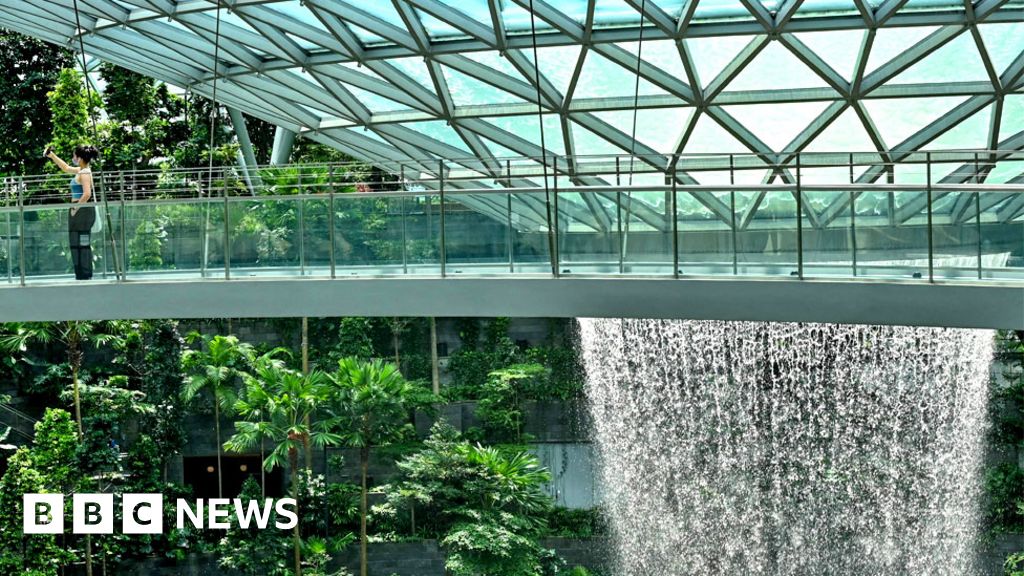 www.bbc.com
Changi Airport: Hanging out at the world's best airport
Singapore's Changi Airport is a particular point of pride in a country obsessed with rankings.
Travel
Every few weeks or so, Hiskandar Zulkarnaen heads to Singapore's Changi Airport, his wife and two young children in tow.
Their destination: Jewel, the 1.5m sq ft shopping mall linked to Terminal 1, designed by the renowned Canadian architect Moshe Safdie and his team. His children are especially fond of the seven-storey high rain vortex, the world's tallest indoor waterfall. A Disney-themed light and music show is also a favourite. The family then stops by Terminal 3, minutes away by shuttle bus or electric train, for kid-friendly carnivals with rides and games.
"I have yet to experience another airport that purposefully presents itself as a leisure, retail, and dining destination," Zulkarnaen says, likening the trip to Changi to visiting Orchard Road, Singapore's world-famous shopping strip.
Welcome to what is the world's best airport, according to Skytrax, a consultancy that ranks and reviews airports.
Skytrax claims to carry out the largest annual global airport customer satisfaction survey, where travellers assess service and facilities across more than 550 airports. Changi has come out at the top 12 times in Skytrax rankings, including eight number-one rankings in the past decade. It regained its crown in March after trailing Doha's Hamad International Airport and Tokyo's Haneda Airport for the past two years, winning praise from Skytrax for its "unrivalled passenger experiences".
Before the pandemic, in 2019, some 382,000 flights took off or landed at Changi, ferrying more than 68 million passengers. While it is still recovering its passenger volume, Changi is no mere travel hub: it is an almost iconic hangout spot, beloved by Singaporeans.
Ask Rachel Tan who regularly takes a 15-minute drive to Jewel to shop for groceries - shopping aside, "you can sit at the fountain and you can enjoy the experience of being at Jewel," says the 34-year-old lawyer.
Easily accessible by subway and bus, it is not unusual to find people spending their whole day at Changi. You can watch a movie, have a meal, buy groceries, even find a quiet spot to study for an exam. Over the years, it has also become a destination for wedding shoots and reunion dinners.
Other attractions include an air-conditioned rainforest, hedge maze and a 12m-high slide. If you're flying out and find yourself at the airport a little too early, the transit area is equipped with a spa, a theatre screening free movies and a swimming pool, not to mention massage chairs and a butterfly garden.
The airport even has its own scent: a custom-made fragrance with floral notes and spices that's diffused throughout Changi.
And just outside Terminal 4, there is a display of life-sized dinosaurs that stretches for a mile.
In a country obsessed with rankings, be it schools or local actors, Changi stands out as a special point of pride. An Indian journalist even tweeted that Singaporeans are "irrationally proud" of it, drawing a predictably huffy response.
And Singapore authorities track the airport rankings "religiously", says Shukor Yusof at the aviation consultancy Endau Analytics. "It gives not just bragging rights, but cements their reputation as a top destination for airlines."
Even while its check-in counters and duty-free shops went eerily quiet during the pandemic, the government was bullish that Changi would become a travel hub again, injecting more than a billion Singapore dollars into the aviation sector.
Singapore's transport minister said at the time that the industry plays a "crucial role" in ensuring the city-state's position as a global trading and business hub.
"Changi is one of, if not the, best airports to transit through," says Zurich-based Alex Chan, who transits through Singapore up to four times a year during multiple work trips.
While Changi is "huge", Mr Chan reckons that it is much better organised and more efficient than the likes of Frankfurt or Amsterdam's Schipol. "I usually travel with a big group of about 60, but I have yet to see a piece of luggage lost here. At the other big hub airports around the world, it's very easy to miss your connecting flight, but this never seems to happen at Changi."
Notwithstanding a recent technical glitch that disrupted immigration clearance for several hours at land and air checkpoints, many international travellers choose to transit at Changi as the chances of their itinerary being disrupted are low, said Mr Shukor.
"If you look at the amount of time and energy and investment spent on any particular airport, then Singapore has by far done the most," he says.
Back in the 1990s, when just about the only thing to watch on Singaporean TV was drama serials produced by the state broadcaster, Changi's iconic control tower was often the centrepiece for the opening shot of a new serial.
This invariably involved a character, who had been away for many years, landing at Changi and taking a scenic taxi ride home before exclaiming to his relatives how much the country had changed. Changi, after all, opened in 1981 with just one terminal and one runway.
And its appeal has endured. Back in 2019, Jewel received 50 million visitors within the first six months of its opening. A fifth terminal is now in the works, and is expected to be operational in the mid-2030s.
"I don't think any other airport in the world can boast that the locals visit it just for fun," says Adrian Tan, a lawyer and social commentator. He says Singaporeans know it as well as the neighbourhood kopitiam, or coffee shop.
Mr Tan wryly described the "national ritual" upon landing at Changi after a long trip away: remark on how much better it is than other airports, zip through immigration and smile as the strains of "welcome home" are heard and then head out for local fare like chicken rice "so that we can reaffirm our culinary superiority over the rest of the world".
"That's why Changi is great. It represents everything that Singapore is good at: efficiency and courtesy with a Singaporean flavour."