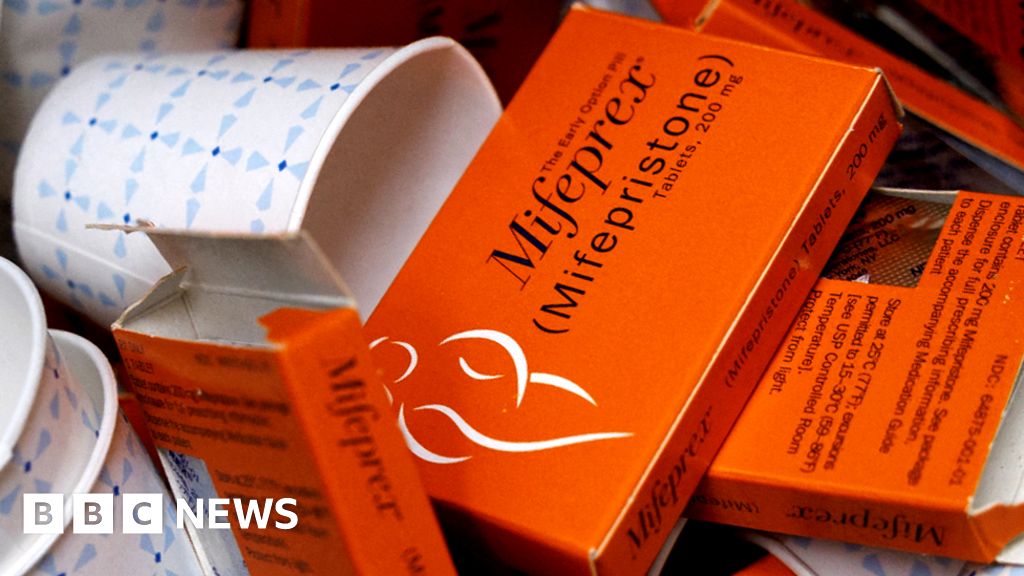 www.bbc.com
US court preserves access to abortion drug mifepristone for now
A federal court preserves access to a widely used abortion pill called mifepristone, but with restrictions.
Health
A US appeals court has temporarily blocked a decision by a Texas judge to halt the government's approval of a widely used abortion drug.
Mifepristone - one of two drugs used for medication abortions - was approved by the Food and Drug Administration and has been allowed for over 20 years.
Abortion pills are now the most common method of ending a pregnancy, used in more than half of all US abortions.
This ruling means access to it will be maintained but with some restrictions.
They include a requirement to visit one's doctor to get the drug and limiting its use to the first seven weeks of pregnancy from the current 10.
Critics of the ruling by Texas Judge Matthew Kacsmaryk say it will open the door for challenges to other approved medicines in the US and could also stifle development of future drugs.
In his 8 April ruling, Judge Kacsmaryk ordered pulling mifepristone from the market in seven days' time, saying the FDA had violated federal rules that allowed for the accelerated approval of some drugs. The order was set to take effect on Friday.
The Department of Justice and the drug manufacturer applied for an emergency stay on the ruling on Monday, asking the court to put a hold on the judge's decision.
The ruling by the Texas judge - who was appointed by former President Donald Trump - came after the Supreme Court removed constitutional protections for abortion last year, triggering a wave of state-by-state bans.
Experts have told the BBC the abortion pill case will probably ultimately be heard by the Supreme Court.
Mifepristone is part of a two-drug regimen that induces abortions - it effectively stops the pregnancy, while the second drug, misoprostol, empties the uterus.
It was first approved for the termination of pregnancy up until seven weeks' gestation.
In 2016, its approved use was extended to 10 weeks of pregnancy.
Anti-abortion campaigners who have opposed mifepristone's FDA approval alleged the agency made a politically motivated decision in approving the drug, and said it did not follow proper protocols.
Some legal analysts, meanwhile, have called the Texas ruling deeply flawed, arguing it cherry-picks evidence and is replete with partisan terminology, including references to "unborn humans" in place of the word foetus.
The Food, Drug and Cosmetic Act of 1938 gives the FDA the authority to determine whether drugs are safe and effective, and typically, courts have deferred to the agency when it comes to scientific and medical decision-making, legal experts say.
This week, more than 300 pharmaceutical executives called for the Texas decision to be reversed, arguing it disregarded scientific evidence.