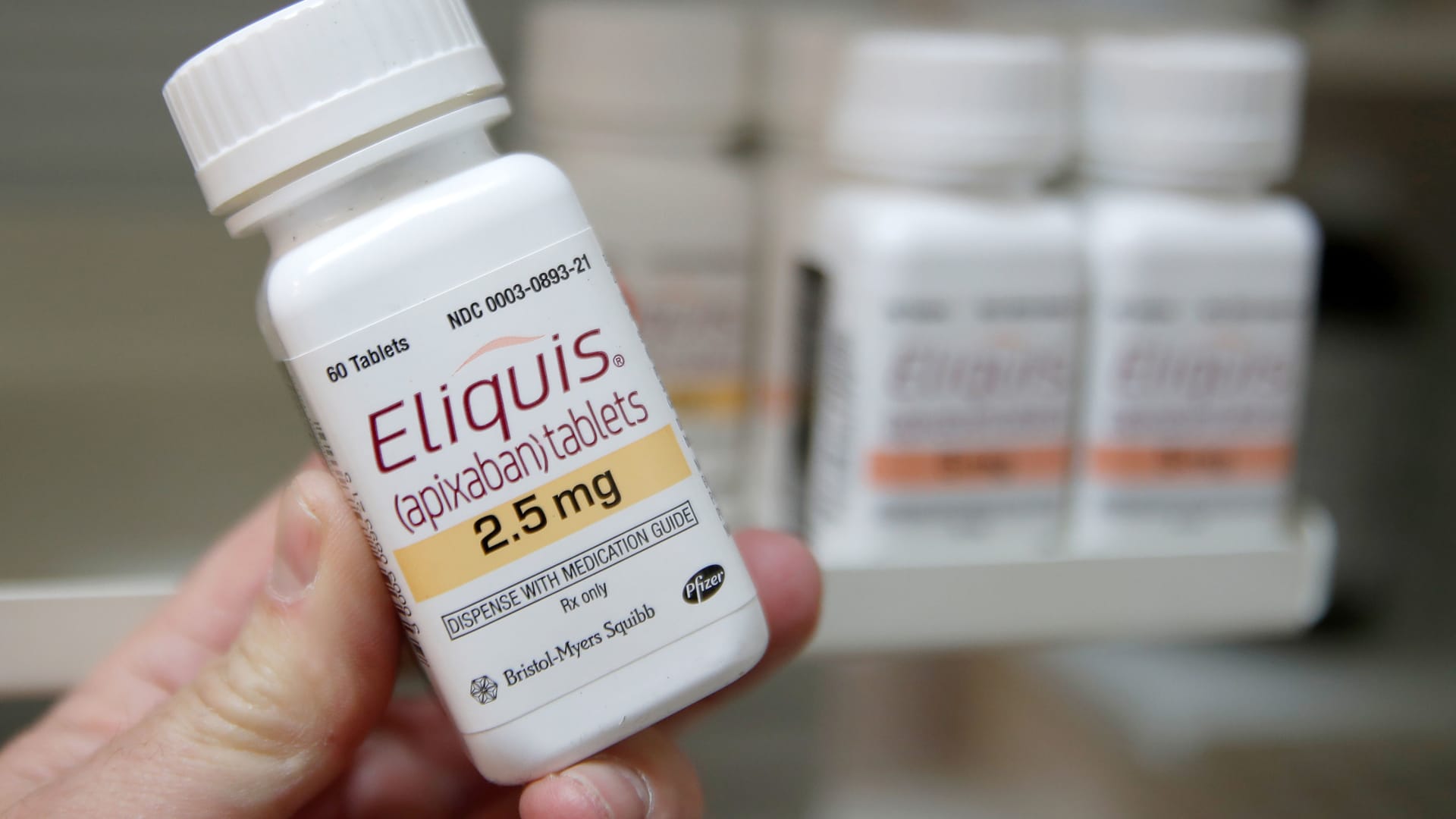 www.cnbc.com
Biden administration unveils first 10 drugs subject to Medicare price negotiations
The announcement of the 10 drugs kicks off a Medicare negotiation process that aims to make costly medications more affordable for older Americans. 
Health
The Biden administration on Tuesday unveiled the first 10 prescription drugs that will be subject to price negotiations between manufacturers and Medicare, kicking off a controversial process that aims to make costly medications more affordable for older Americans.
President Joe Biden's Inflation Reduction Act, which passed in a party-line vote last year, gave Medicare the power to directly hash out drug prices with manufacturers for the first time in the federal program's nearly 60-year history. The agreed-upon prices for the first round of drugs are scheduled to go into effect in 2026.
Here are the 10 drugs subject to the initial talks this year:
Eliquis, made by Bristol-Myers Squibb
, is used to prevent blood clotting to reduce the risk of stroke.
Jardiance, made by Boehringer Ingelheim, is used to lower blood sugar for people with type 2 diabetes.
Xarelto, made by Johnson & Johnson
, is used to prevent blood clotting to reduce the risk of stroke.
Januvia, made by Merck
, is used to lower blood sugar for people with type 2 diabetes.
Farxiga, made by AstraZeneca
, is used to treat type 2 diabetes.
Entresto, made by Novartis
, is used to treat certain types of heart failure.
Enbrel, made by Amgen
, is used to treat rheumatoid arthritis.
Imbruvica, made by AbbVie
, is used to treat different types of blood cancers.
Stelara, made by Janssen, is used to treat Crohn's disease.
Fiasp and NovoLog, insulins made by Novo Nordisk
.
The Medicare negotiations are the centerpiece of the Biden administration's efforts to rein in the rising cost of medications in the U.S. Some Democrats in Congress and consumer advocates have long pushed for the change, as many seniors around the country struggle to afford care.
But the pharmaceutical industry views the process as a threat to its revenue growth, profits and drug innovation. Drugmakers like Merck
and Johnson & Johnson
and their supporters aim to derail the negotiations, filing at least eight lawsuits in recent months seeking to declare the policy unconstitutional.
The drugs listed Tuesday are among the top 50 with the highest spending for Medicare Part D, which covers prescription medications that seniors fill at retail pharmacies.
The 10 medicines accounted for $50.5 billion, or about 20%, of total Part D prescription drug costs from June 1, 2022, to May 31, 2023, according to the Centers for Medicare and Medicaid Services, or CMS.
The drugs have been on the market for at least seven years without generic competitors, or 11 years in the case of biological products such as vaccines.
In 2022 alone, 9 million seniors spent $3.4 billion out of pocket on the 10 drugs, a senior Biden administration official told reporters Tuesday during a call.
Medicare covers roughly 66 million people in the U.S., and 50.5 million patients are currently enrolled in Part D plans, according to health policy research organization KFF.
What happens next
Drugmakers have to sign agreements to join the negotiations by Oct. 1. CMS will then make an initial price offer to manufacturers in February 2024, and those companies have a month to accept or make a counteroffer.
The negotiations will end in August 2024, with agreed-upon prices published on Sept. 1, 2024. The reduced prices won't go into effect until January 2026.
If a drugmaker declines to negotiate, it must either pay an excise tax of up to 95% of its medication's U.S. sales or pull all of its products from the Medicare and Medicaid markets.
The pharmaceutical industry contends that the penalty can be as high as 1,900% of a drug's daily revenues.
After the initial round of talks, CMS can negotiate prices for another 15 drugs for 2027 and an additional 15 in 2028. The number rises to 20 negotiated medications a year starting in 2029 and beyond.
"I think it's incredibly important to keep in mind that the negotiation process is cumulative," said Leigh Purvis, a prescription drug policy principal with AARP Public Policy Institute. "We could have as many as 60 drugs negotiated by 2029."
CMS will only select Medicare Part D drugs for the medicines covered by the first two years of negotiations. It will add more specialized drugs covered by Medicare Part B, which are typically administered by doctors, in 2028.
The drug price talks are expected to save Medicare an estimated $98.5 billion over a decade, according to the Congressional Budget Office. They're also estimated to reduce the federal deficit by $237 billion over 10 years.
The negotiations are also expected to save money for people enrolled in Medicare, who take an average of four to five prescription drugs a month and increasingly face out-of-pocket costs that many struggle to afford.
Nearly 10% of Medicare enrollees ages 65 and older, and 20% of those under 65, report challenges in affording drugs, a senior administration official said Tuesday.
Drugmakers' legal challenges
Merck
, Johnson & Johnson
, Bristol-Myers Squibb
and Astellas Pharma are among the companies suing to halt the negotiation process. The industry's biggest lobbying group, PhRMA, and the U.S. Chamber of Commerce have filed their own lawsuits.
The suits make similar and overlapping claims that Medicare negotiations are unconstitutional.
The companies argue that the talks would force drugmakers to sell their medicines at huge discounts, below market rates. They assert this violates the Fifth Amendment, which requires the government to pay reasonable compensation for private property taken for public use.
The suits also argue that the process violates drugmakers' free speech rights under the First Amendment, essentially forcing companies to agree that Medicare is negotiating a fair price.
They also contend that the talks violate the Eighth Amendment by levying an excessive fine if drugmakers refuse to engage in the process.
The suits are scattered in federal courts around the U.S. Legal experts say the pharmaceutical industry hopes to obtain conflicting rulings from federal appellate courts, which could fast-track the issue to the Supreme Court.
Some drugmakers have confirmed their intention to bring their legal battle to the nation's highest court.
"As we look forward, we're going to take this to the fullest, which means we'll take it through District Court and, if need be, into Circuit Court and ultimately to the Supreme Court," Merck CEO Robert Davis said during an earnings call earlier this month. "So, really that's the strategy."
Meanwhile, the Biden administration has vowed to fight the legal challenges.
Biden and his top health officials have embraced the lawsuits as evidence that they're making progress in the fight to cut drug prices.
"Big Pharma doesn't want this to happen, so they're suing us to block us from negotiating lower prices so they can pad their profits," the president said in a speech at the White House last month. "But we're going to see this through. We're going to keep standing up to Big Pharma."
How much Medicare spends on the drugs
Medicare Part D spent the most among those drugs on Eliquis at $16.5 billion, according to a CMS fact sheet.
The plan also spent roughly $7 billion on Jardiance, $6 billion on Xarelto, $4 billion on Januvia and $3.2 billion on Farxiga. Spending for Entresto, Enbrel, Imbruvica, Stelara and the two insulins came in at more than $2.5 billion each.
In 2022, more than 3.5 million enrollees used Eliquis and paid $441 out of pocket on average for the blood thinner.
Roughly 1.3 million enrollees used Jardiance last year, paying $290 out of pocket on average. About 1.3 million beneficiaries also used Xarelto and paid $451 out-of-pocket on average.
Far fewer enrollees used Imbruvica and Stelara last year, at 22,000 and 20,000, respectively. But enrollees paid the most out of pocket for those drugs: $5,247 for Imbruvica and $2,058 for Stelara on average.
Meanwhile, 763,000 enrollees used Novo Nordisk's two insulin products last year and paid $121 out of pocket on average.
A handful of drugs on the list came as a surprise, including Farxiga and Stelara. Wall Street analysts and health policy researchers had been expecting other names, such as Eli Lilly's diabetes drug Trulicity or Xtandi, a rheumatoid arthritis medication from Astellas Pharma.
A senior administration official said the list likely diverged from predictions due to changes in Medicare Part D spending.
"Data may now have fallen lower on the list because utilization may have dropped off in the last year or other drugs may have become more common," the official said during the call.